Updates on the September 26th Plaque Dedication for Coach Jim Fairchild:
At the event, all Covid protocols for an outdoor gathering will be observed. all seats will be 6' apart, & we want to note as part of the invite that "anyone planning to attend should be vaccinated". Also, wear a mask if you feel more comfortable doing that. Currently masks are not required for outdoor gatherings of less than 100 people.
The seating is one of the requirements that we need a head count for. Chairs will be placed on the lawn in front of the "Coaches Circle of Honor" at the football field , so we need to know how many chairs to set up.
Please RSVP if you are planning to attend to Bob Baker:
bob@adage.cc
(yes, .cc - not .com)
SPEAKERS IN ORDER for Coach Fairchild's Presentation:
Marty Brill '64
Dick Beahrs '63
Craig Ritchey '62
Ray Tollner '66
Earl Hansen, Retired Paly Coach and Athletic Director
Catherine Work, Daughter of Coach Fairchild
Bob Baker '64
Jim Fairchild, Da Man
PS We are also planning an outside get together in Marty & Anita Brill's backyard in Atherton, after the ceremony until 3pm. (A 10 minute drive from Paly) Food and beverages will be provided .Directions to the Brill's house will be provided on the program at the event
Sunday, September 26 ~ 11:00am at Hod Ray Field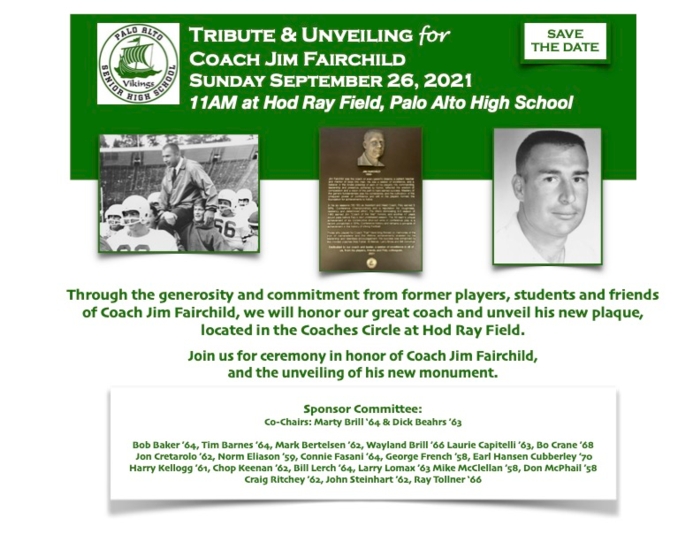 Please encourage everyone ELSE to get vaccinated! We can do this!