Welcome to the Official Website of the Paly Class of 1964!
Visitor Hits to Our Site Since Our Launch in October of 2013:
77,974
Paly Journalism Project: Now Complete! Every Campanile, Madrono etc is now completley digitalized. Everything since 1895!
http://palyjournalismarchive.pausd.org/
Sample: Campanile from 6/11/64:

http://palyjournalismarchive.pausd.org/cgi-bin/paloalto?a=d&d=CAM19640611-01&e=-------en-20--1--txt-txIN-------
PALY CAMPUS CENTENNIAL!!!
Join the 2018 Centennial celebrations "Paly Then and Now"
Paly Then and Now
~ 100 Years of Graduates ~
August 23 - - 5:00 - 8:00pm
Centennial Kick-off BBQ
Dinner Tickets: $13/person
Purchase tickets online by clicking on this link: palywebstore.myschoolcentral.com
or send a check payable to: Palo Alto High School Centennial (please specify Beef or Veggie Burger on check) and mail to: PALO ALTO HIGH SCHOOL CENTENNIAL, 50 Embarcadero Rd., Palo Alto CA 94301.
~ You will not receive actual tickets but will be on the paid list!! Don't miss it!! ~
Alumni, students, families and community welcome. This will show off Paly Today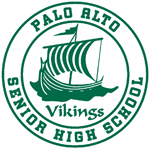 Paly Centennial Fund
Dear Paly Alumni,
We are excited!! Our Paly campus turned 100 years old this year and we are planning centennial activities for students, alumni and the Palo Alto community. Please help to make this celebration a success by contributing to the Paly Centennial Fund! All donations will be acknowledged and are tax deductible as allowed by law. https://palywebstore.myschoolcentral.com
To donate online go to palywebstore.myschoolcentral.com or mail checks to:
PALO ALTO HIGH SCHOOL
CENTENNIAL FUND
50 EMBARCADERO RD
Palo Alto, CA 94301
Your generosity will help us to:
Create Campus decorations highlighting 100 years at Paly.
Founder's Tribute: A permanent tribute to Anna Zschokke, the founder of the Palo Alto schools and Palo Alto H.S.
Centennial Kickoff BBQ for alumni, students, faculty and community
Underwrite dinner tickets so all families can afford to attend the Centennial BBQ
Centennial Operating costs
Create a "Centennial Scholarship"
Paly Retired Staff - Reunion Event
For further information, please contact Staff Coordinator Mary Ellen Bena at mbena@pausd.org. Suggestions welcome.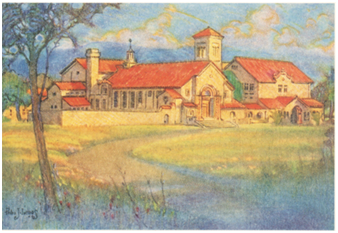 SAVE THESE DATES
October 7, 2018 - Historical Re-enactment
Re-enactment of the original march organized by the Palo Alto Historical Association starting from the old site near Channing House to the "new" campus. The march originally took place in 1918. All attending in 2018 are encouraged to help create the same level of enthusiasm.
Tribute to Anna Zschokke, Paly's founder.
March 23, 2019 - Celebrations
100th BIRTHDAY OF THE CAMPANILE CELEBRATION in the afternoon
CENTENNIAL GALA in the eveing at Lucie Stern celebrating the first class that graduated in February, 1919. Tickets will be available closer to the date.
Other Events
Special student projects
Career Week - Alumni to share info about their careers with students
Reunion for retired staff
For updates please refer to Menu drop-down items under "Centennial News and Articles"
Thanks for your help and participation. We look forward to seeing you soon.
Click on https://paly.net/centennial for lots more information
We gotta stay young at heart! Maybe not all of us can dance like this, but the music should get you involved, at the very least! This couple is all over the internet right now. Heck, even Paly '57 is emailing it around to fellow classmates! Did we have anyone in our '64 class that could dance like this?
PALY CAMPUS TOUR
Welcome to the Palo Alto High School Campus Tour!
Visit Paly and enjoy the tour in person, or on your phone or tablet.
The campus map lists tour locations. Move to a location and click on the corresponding information on the map to learn more about Paly's past, present and future. But first, a little history. Palo Alto incorporated in 1894 and owes its existence to David Starr Jordan, the then President of Stanford University who offered the 30 acres at $1.00/acre, so it's no surprise that its earliest residents sought the best education for their children.
Palo Alto High School March to the New School on December 24, 1918. Watch the video for some history!
You can link to the playlist on YouTube from here https://goo.gl/ULTEGt or click on the highlighted links below.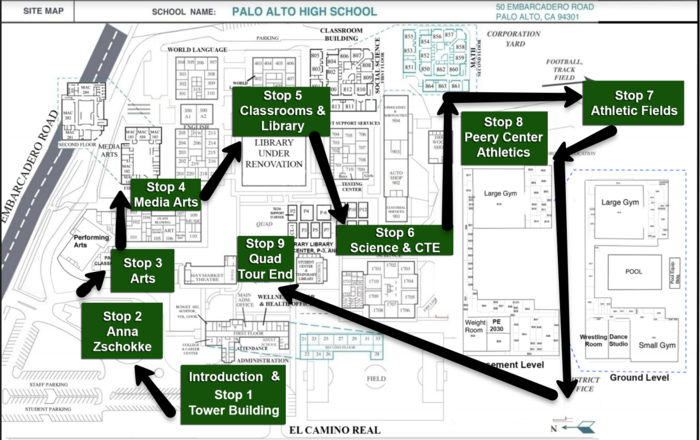 Paly Campus Tour - Introduction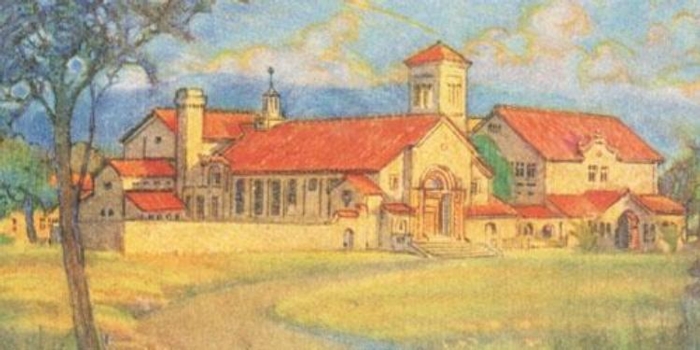 Paly Campus Tour - The Tower Building
The Tower Building and Haymarket Theater are the only original buildings on campus. New and remodeled buildings reflect their distinctive architectural details. Learn more about Paly's past present and future by listening to this history of the Tower Building.
You can link to the playlist on YouTube from here https://goo.gl/ULTEGt or click on the individual links below.
Paly Campus Tour - Anna Zschokke School Founder
Paly Campus Tour - Visual Performing Arts Haymarket and PAC
Paly Campus Tour - Media Arts Center
Paly Campus Tour - Classrooms and Programs
Paly Campus Tour - Science and Career Tech Center
Paly Campus Tour - Athletics and Fields
Paly Campus Tour - Peery Family Center
Paly Campus Tour - Quad, Student Activities and Tour Ends
To access from your phone or tablet, open a browser and type in the URL https://palyguidedtour.github.io
Going Down the Nostalgia Road...sweet sounds...
Flash from the Past! The Allman Brothers Band performing 'Dreams' at Fillmore East, 1970 Geoff Alexander: Blues or Not!?
| | | |
| --- | --- | --- |
| | | |
| Russ "The Moose" Syracuse | Emperor Gene Nelson | Johnny Holliday |
The legendary 1260 KYA was the radio home of many of the most talented announcers in the history of the industry. Bay Area listeners were entertained over the years by stars such as Emperor Gene Nelson, Johnny Holliday, Tommy Saunders, Russ "The Moose" Syracuse, "Big Daddy" Tom Donahue, Jim Stagg, Chris Edwards, Tony Bigg, Peter Tripp, Gary Schaefer, Bwana Johnny, Norman Davis, Bob Mitchell, Casey Kasem, Ed Hider, Mike Cleary and Bill Holley, and legendary newsmen like Tony Tremayne, Larry Brownell, Brad Messer and John Ferriss. Learn more about these and other illustrious KYA alumni!
| | | |
| --- | --- | --- |
| | | |
| Chris Edwards | Mike Cleary | Tom Campbell |
This is Us, Paly 64 Survey is Now Up & Running! Certain to be a nostalgic trip down our very own Paly & Palo Alto Memory Lane, it's located at the top leftside of our Home Page. It's a very easy survey to complete (if you can remember that far back!) and you can submit your answers all at once or a few at a time. You can also edit, delete or add to any or all of your responses too. The best part, though, will be seeing how your classmates respond...
PALY'S OLYMPIANS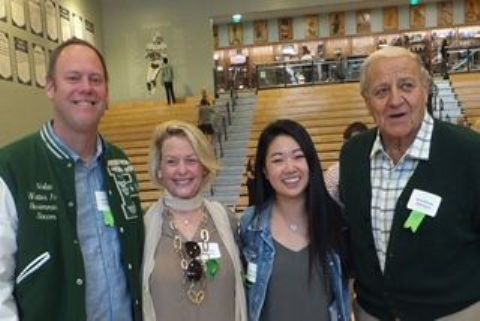 Paly Olympians - 10-21-17 at Grand Opening of Peery Family Athletic Center
From left, Sean Nolan '90 (water polo 2000 Olympics), Suzy Jones Roy '66 (swimming 1968 Olympics), Lily Zhang '14 (table tennis 2012 and 2016 Olympics) and Rink Babka '54 (silver medal in discus, 1960 Olympics.)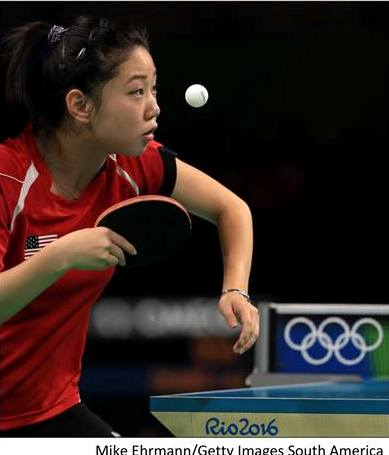 Lily Zhang
Paly Class of 2014
UC Berkeley
2012 & 2016 Olympian - Table Tennis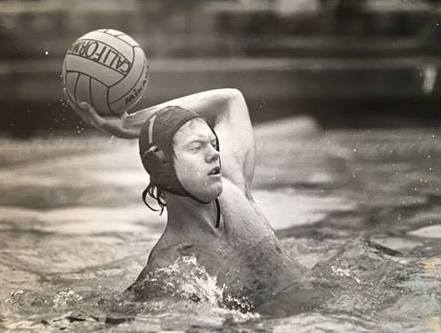 Sean
Nolan
Paly Class of 1990
2000 Olympian
Water Polo - Sixth Place - UC Berkeley
Sean, a goalie, was a member of the USA Senior National team from 1994-2000, competing in the 2000 Sydney Olympics. A three-time All-American (1992-1994) at UC Berkeley (CAL) Nolan graduated in 1993 with a degree in political economies of industrial societies. He led the Bears to NCAA titles in 1991 and 1992 including making two mach-saving blocks at the end of regulation in the '71 title match against Stanford. The 1992 NAA championship match is considered by many to be the greatest title match in NCAA water polo history as Cal won 12-11 in sudden-victory to preserve a perfect 31-0 record. At Paly, Sean was name a first-team All-American his senior year after winning the CCS Championship for the first time in school history.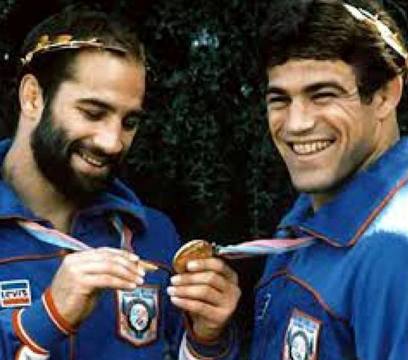 Dave Schultz & Mark Schultz comparing their Olympic Medals
Mark Schultz
Paly Class of 1978
1984 & 1988 Olympian
Wrestling: Gold Medal 1984, 82 kg (181 lbs)
1981, 1982, 1983 NCAA Champion
1982 NCAA Tournament Outstanding Wrestler
1985 World Chamionships: Gold, 82 kg
1987 World Championships: Gold, 82 kg
Colleges: UCLA (one year); U. of Oklahoma (three years)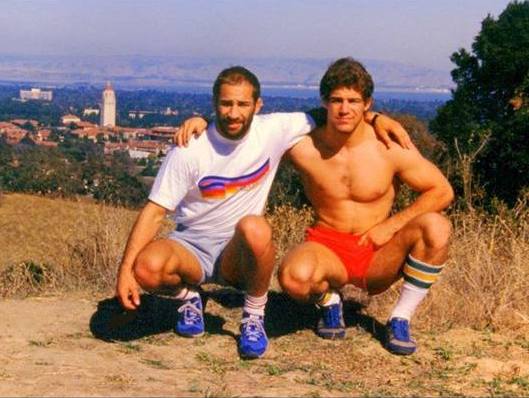 Dave, left and Mark when both were assistant coaches at Stanford (1985)
DAVE SCHULTZ
Paly Class of 1977
1984 Olympian
Wrestling Gold Medal: 74 kg (163 lbs)
Oklahoma State and U. of Oklahoma
"My brother was a saint," Dave Schultz told the San Jose Mercury News in 2010. "He was the greatest ambassador that the wrestling world has ever known. It didn't matter what country you were from. If you were a wrestler, you were his friend. It's amazing how many lives Dave touched. Wrestling will never see someone like Dave Schultz again. He was one of a kind."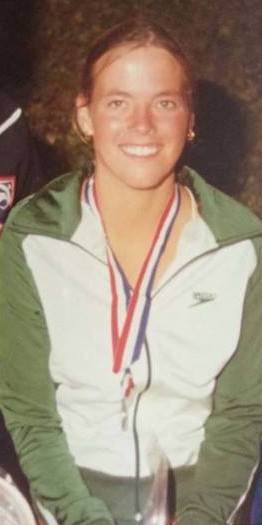 Terri Baxter-Smith
Paly Class of 1982
1980 Olympian - 100 and 200 meter breaststroke
(U.S. Boycotted Moscow Olympics)
The highlight of Terri's 20-yr swimming career was qualifying for the 1980 U.S. Olympic Team In both the 100 and 200 meter breaststroke. As a high school varsity swimmer, she won the Central Coast Section Championship and breaking the CCS record in the 100 breaststroke and 200 individual medley in 1981. Terri was named "Most Outstanding Varsity Swimmer from 1978 – 1982. She attended Arizona State University on a full swimming scholarship where she was a three-time NCAA All-American in the 100 and 200 breaststroke and 200 and 400 medley relays. In 1987 she represented the U.S. at the Pan American Games and won a bronze medal in the 100 meter breaststroke.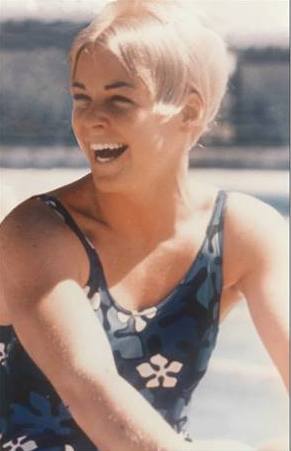 Suzy Jones Roy
Paly Class of 1966
1968 Olympian
100 Meter Breaststroke: 11th
200 Meter Breaststroke: Alternate
400 Meter Medley Relay: Swam breaststroke in preliminary heats for U.S. Gold-medal winning team
World Record: 110 yard breaststroke, 1966
USC, UCLA
Suzy (Susan) Jones Roy is a Palo Alto native and feels she was born in the right town at the right time for a competitive swimming career. The nearby famous Santa Clara Swim Club with Coach George Haines spurred her on to make the Olympic team on her second try in 1968. Suzy's swimming career took place pre-Title IX before here was high school or intercollegiate sports competitions for women so she did not compete in swimming while at Paly. Suzy became a trail blazer forging the way for future women athletes to have equal opportunities in sports as the men.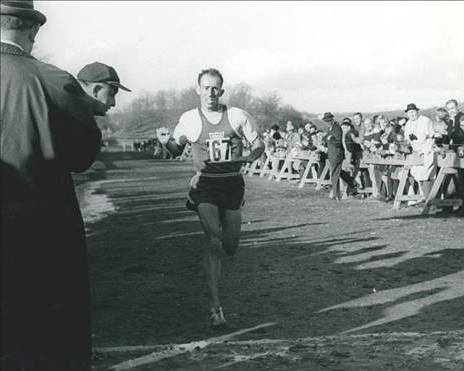 Winning the 1965 AAU Cross-Country Championships -- NYC, November 27, 1965. Ron won again in 1966!
Ron Larrieu
Paly Class of 1956
1964 Olympian -10,000 meters
Nothing but fond memories. It was my good fortune when Dad moved our family from San Francisco to "Mayfield Township" in 1946. Palo Alto still had a small town feeling. The large open tracts of land adjacent to Mayfield made it almost country; a marvelous place for a nine-year-old to grow up. Paly High brought me together with Coach Forrest Jamieson. It was the perfect storm. He molded me into a successful runner, starting me down the road toward bigger accomplishments. Had our family remained in The City, it's not likely Ron Larrieu, the runner would have ever existed.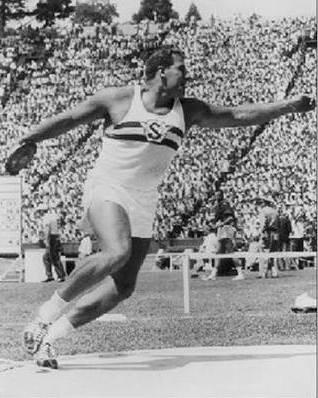 Rink at Olympic Trials - 1960, Stanford University
Rink Babka
PALY CLASS OF 1954
1960 OLYMPIAN
DISCUS: SILVER MEDAL
WORLD RECORD: 1960
Menlo College, USC
That Tear – is priceless to acquire. The prerequisites are few but demand conviction, courage and commitment.
That Tear – has a vision: The view of the dream of excellence and the focus of hard work and demanding improvement.
That Tear – you see from the eye of the Olympian is in fact the True Spirit of the Games, never to be seen any place else. No other sport or assembly can claim it. Only a camera can capture it.
That Tear- may be irrelevant to others since they cannot buy it. Only the Olympian has earned it. This true expression from the perfection, pride and privilege of dedication to have struggled, knowing they had done their best at that moment in time. The entry fee is free.
That Tear – in fact is the Olympic experience. The spirit of the lasting reminder of one's wonder of their inner self; both collectively with one's soul and the Olympic Flame that will never burn out.
That Tear – the spirit of true emotion will be with the Olympian for life. That is God's gift – greater than the medal itself.
Watch for more Olympians to be added -- the Paly "year of the Olympians"...an exceptional year...
Paly 64 Gathering in Roseville CA! It was truly a lot of fun, put together at the last minute...we had a great time! We sort of made a 71st birthday out of it too! Good spirit, good friends, good memories!
We got together on 11/29/17 at Buca De Beppo in Roseville, CA. Group photo L to R is: George Shields, Adele Faville, Tom Minor, Penny (Gray) Hennings, Bob Burnley, Sharon Vecsey-Minor, Karen (Kohles) Martinelli and Donna Adams, plus our 'Honorary Guest'!!!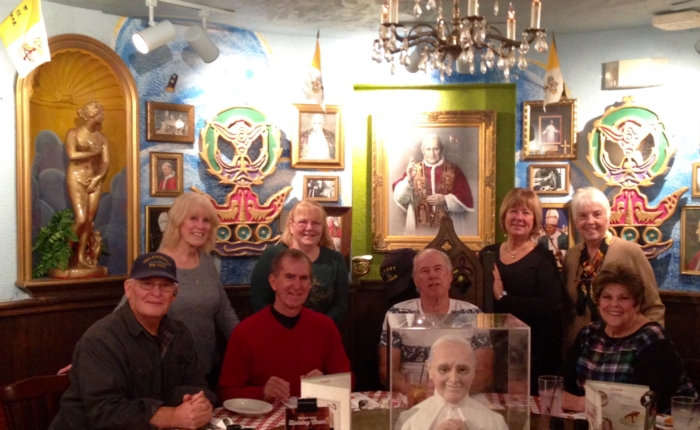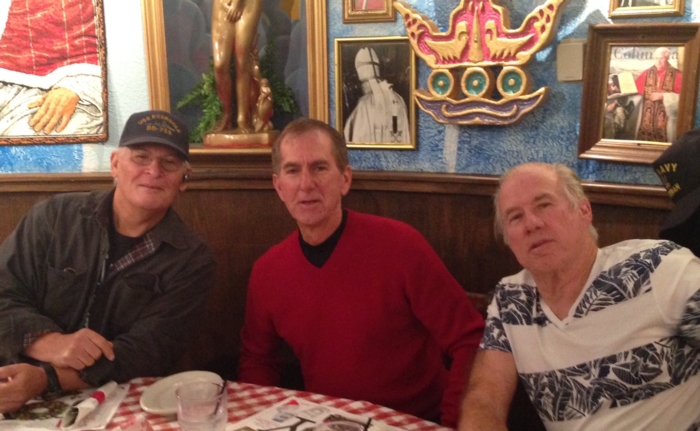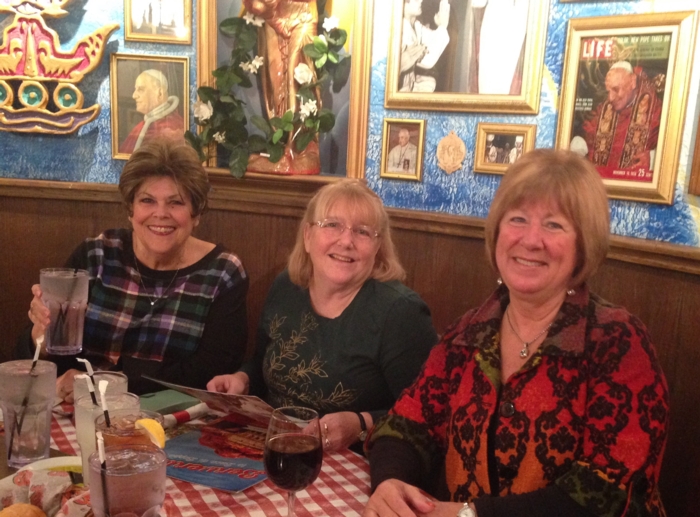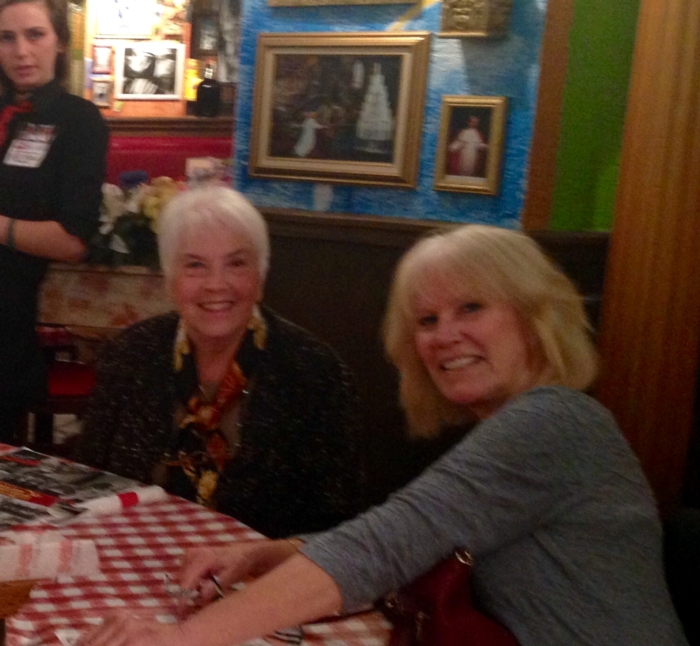 The New Paly Gyms are completed and in service!
For more photos, see Photo Galleries "The New Paly Gyms"
[Hint: Once you pull up one photo there, double click it to make it larger and then advance the photos]