Palo Alto High School
Class Of 1964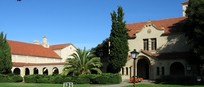 •

Sixtyforegon May 30

The Reunion of the Paly 1964 Alumni in Oregon is ON!

Sixtyforegon will be held at Claire Kellogg's home in Beavercreek, Oregon on Saturday, May 30, starting at 12:30 p.m. A casual afternoon of getting together with old friends and new, chatting about the past, present, and future.

Food, soft drinks - diet and regular - as well as bottled waters will provided. BYOB for anything stronger.

There will also be optional games and prizes. (nothing too serious, though).

Older children (grandchildren?) might enjoy exploring the 10 acres of trails throughout the property. Keep in mind, though, no child care will be provided.

For those who need to stay overnight, Claire has 3 double beds, one in the den, and two on the second floor of the garage, as well as plenty of space for those who wish to camp. If you wish to stay overnight in one of the bedrooms, let us know. First come, first pick.

The cost for Alumni is $25.00

each, which includes a commemorative

t-shirt. Guests are$15.00 each with a

t-shirt, $5.00 without. Additional

t-shirts are available for $10.00 each. We

have XL, L, and S, all men's.

There are 2 ways to pay for Sixtyforegon:

If you've already paid, thank you.

1. Pay by check via regular mail. (sorry, we

can't accept credit cards or Paypal.)

We will need your check by May 15 in order

to have t-shirts and food by the event.

Make the check out to:

Peter Krupp

Please write 'Sixtyforegon' on the note line of the check.

Along with your check, include the quantity and sizes of t-shirts, including your own.

2. Pay at the event.

Feel free to pay at the event if that's more convenient . We will need an e-mail commitment by May 15 though, so we can order the at-shirts and food. Include the number of people who will attend.

When we get either your check or

e-mail commitment, we will send you a

map and a list of motels in the area.
Paly Class of '64

Best Viewed on Full Screen!
MIni Paly '64 Reunion held in Auburn, CA on St Patricks's Day! Thanks to Sharon Vecsey and Tom Minor for organizing and hosting the event on March 17th. Kudos also to Sharon for taking and forwarding the photos! Lots of fun, very casual and relaxed. (15) of us in attendence. Also a special thanks to George Shields for supplying some very nice wine that he brought from the winery he helps out at.
For names, captions and larger photos etc. please go to Paly '64 Photo Galleries located on the left side banner.
The Concert for Valor
The YouTube Video below is narrated by Steven Spielberg and is about a family from Truckee CA.
Only 4:23 long, it's worth the time.
Quick, Mason & Stanga are gone for the day! We can sneak in to do our Senior prank!
The Cardinal Hotel at 235 Hamilton Ave, Circa 1930'3
Palo Alto Fire & Police Building at 450 Bryant Street
Rinconda Pool, Circa 1940
Southgate Market, 1949
Peninsula Creamery, Corner of Hamilton & Emerson, Circa 1940 Still there in 2015!!